Headboard Decals
Shop Headboard Stickers and Decals
The addition of coordinated and cute headboard decals bring a special touch to your child's room. A headboard wall decal gives a finished look to the bed, and creates a welcoming feel in the room decor. Enjoy the look of a headboard in instants with our easy-to-apply peel and stick headboard decals. The designs harmonize beautifully with popular kids decor themes and each feature coordinating designs with our other adorable kids wall art decals.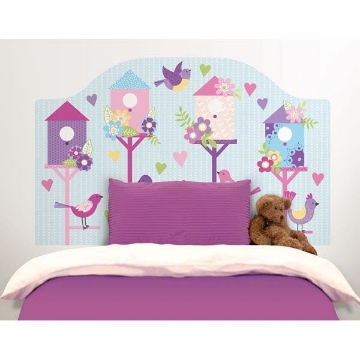 Add a happy touch to the room with this sweet bird theme peel and stick headboard. A headboard is a lovely way to bring the whole room together, adding a special finishing touch to make the bed a welcoming focal point. Five beautiful birds are arranged in their charming neighborhood of colorful homes, set on a sky of polka dots and hearts. Your sweetheart will love the look of this happy headboard decal.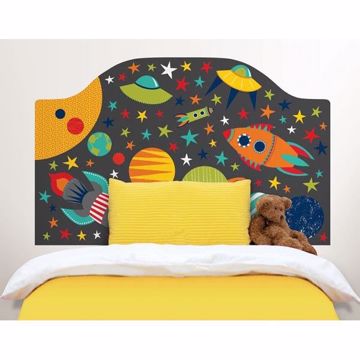 A headboard kicks up the style of a room, creating a finished look with the bed as a focal point. This peel and stick headboard decal adds a curvy and cute headboard detail with the convenience of a removable decal. Especially for a child who loves space, this imaginative design brings a cute galaxy to life. Rocket ships with aliens at the helm, planets and stars are all designed with a fun and friendly feel. Enjoy the look of a headboard in instants with this easy-to-apply headboard decal.